From CRM to accounting and marketing tools, the demand for cloud-based services is at an all-time high. In fact, it wouldn't be a stretch to say that we are in the midst of a SaaS revolution.
This major popularity boost has proved to be a double-edged sword for SaaS companies and marketers as the competition is stiffer than ever before.
Enter link building, one of the most effective methods for boosting brand awareness, converting audience into customers, building long-lasting relationships, increasing revenue, and much more. With quality links by your side, you can easily penetrate the brutally competitive world of SaaS.
Since link building is an ever-changing field, what worked in the past might not be as effective today. Follow along as we update you on the latest link building strategies and trends that are dominating the industry.
How Important is Link Building for SaaS?
Companies have reported that as of 2021, 70% of their most-used business apps are SaaS-based and by 2025, that percentage is expected to skyrocket to 85%. Consequently, SaaS is now a 176 million dollar industry as of 2022 and it continues to prosper.
With so many new players entering the market and established providers holding a monopoly over customers, it can be hard to break into the cutthroat world of SaaS. Link building offers an elegant solution to SaaS companies looking for a boost.
Here's why you need SEO link building as a part of your SaaS marketing and growth strategy:
One of the most important factors for any business but especially for a SaaS company is to boost visibility, credibility, and brand awareness online. The more people run into your name and website, the more leads you generate. With a solid backlink profile, Google is more likely to rank your website on the SERPs, making it easier for you to reach a larger audience.
The best SaaS companies in the world such as Canva or HubSpot are great examples of building a readership through link building strategies and converting them into paying customers.
Link Building Through the Years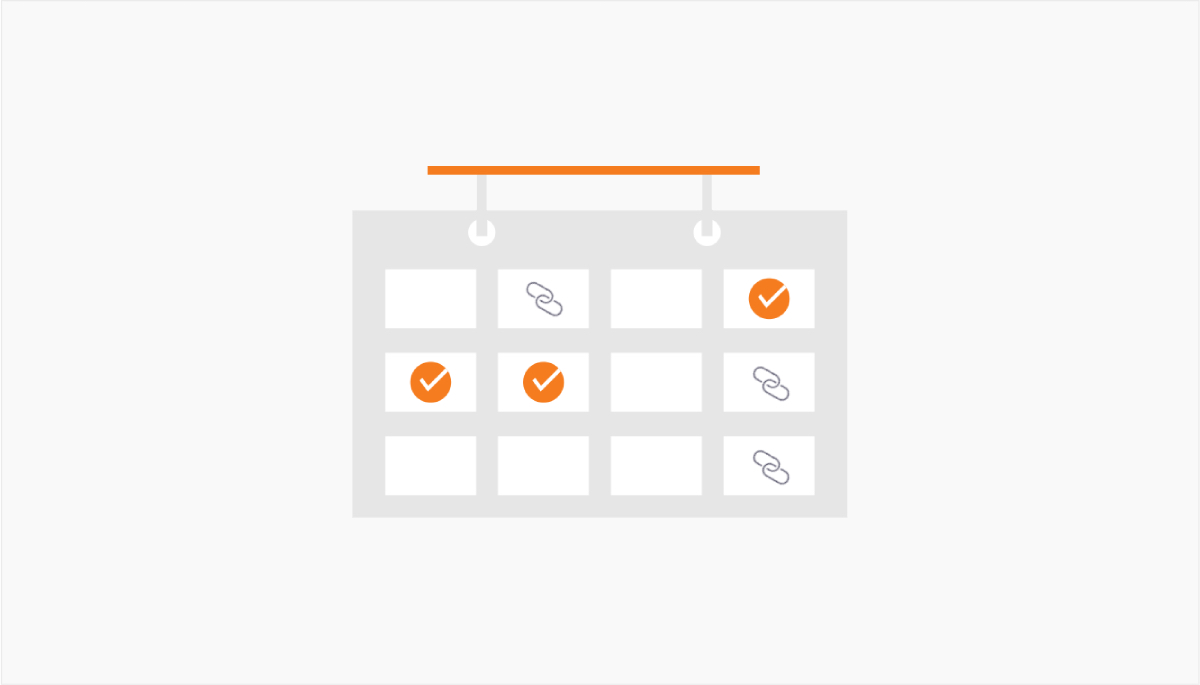 Link building is a highly dynamic field with ever-changing trends and demands. In short, the strategies that worked for you in the past may not be fruitful in the future.
Here's a rundown of how link building has changed through the years and what its future may look like.
2008: Sponsored posts, press releases, article submission directories, blog comments, bookmarking sites, directories, automated link building tools, and private blog networks.
2012: Google's algorithm gets smarter and this begins the end of prominence for many automated link building or private blog network SEOs. Both these tactics are in play even today, especially PBNs, but you'll notice they are discussed much less. In 2012, PBNs went from "This definitely works" to "Be careful! This might work if you do everything perfectly."
2016: Several semi-automated email outreach tools gain prominence leading to an increase in guest posting and blogger outreach. Brian Dean coins the Skyscraper technique which puts a name to the general practice of publishing great content and promoting it to bloggers.
2020: The term guest posting comes under fire after SEMrush tries to launch such a service and Google tweets about it. Google's Core Updates of 2019 and 2020 create constant volatility in the SERP. SEOs believe Google is getting smarter at detecting relevancy and weeding out guest posting farm sites.
2023: Link building trends continue to focus on quality over quantity. It takes longer to build a good quality link using custom outreach because everyone in the industry is well aware of paid opportunities. Unless your content is specific and well written, it's less likely to be accepted organically.
Thanks to advancements in AI tools such as ChatGPT, the years 2023 and beyond promise to be thrilling for everyone working in Off page SEO and marketing. The good news is that with AI tools, regular tasks can be completed more quickly, freeing up time for marketers to focus on creating real value for users. Google will almost certainly reward this type of content.
Summary: While Google hasn't quite figured out the difference between an organic link and a manufactured link, it's systematically cutting down on the typical link tactic of each era.
To summarize, easy, cheap, and scalable link building continues to lose favor year over year. Links acquired organically or through manual outreach – the most difficult types of links to get – will continue to grow in importance.
The Latest Link Building Trends that Guarantee Success
Link building strategies and trends that work are subject to change each year as more and more businesses adopt them and saturate the market.
Here are some of the latest SEO link building trends and old strategies that need an overhaul.
Trend #1: Cold Outreach Is No Longer Showing the Best ROI
Cold outreach is one of the main tools in every link builder's arsenal. At least it used to be once upon a time. Today, the market is so saturated that cold outreach emails aren't bringing in the ROI they used to.
An analysis of 12 million outreach emails by Backlinko revealed that only 8.5% of cold outreach emails get any kind of response. The majority of them spend their life waiting in someone's inbox, never to be read again.
If you're still relying on cold outreach, it's time to diversify your strategy and invest in other link building efforts. Or, you can follow these tips to improve your chances of getting a response:
Send follow-up emails and don't forget to email multiple prospects at the same time.
Personalize the title and body text. Personalized emails have 33% higher response rates, no one wants to read a generic pitch.
Link your social media profiles in the email to add credibility.
Reach out regarding guest posts, links, and roundups as these topics have better response rates.
Trend #2: Original Research Studies are Hitting it Big
There's no better way to boost your brand mentions than by conducting an original research study or survey on a popular, relevant niche.
Not only does it establish you as an authority in the field, but it will also get you some good link juice to power your SaaS marketing strategies.
Even the biggest SaaS company in the world, Salesforce, uses this strategy by releasing research reports and surveys that provide business insights and are excellent for scoring mentions from bloggers and brands.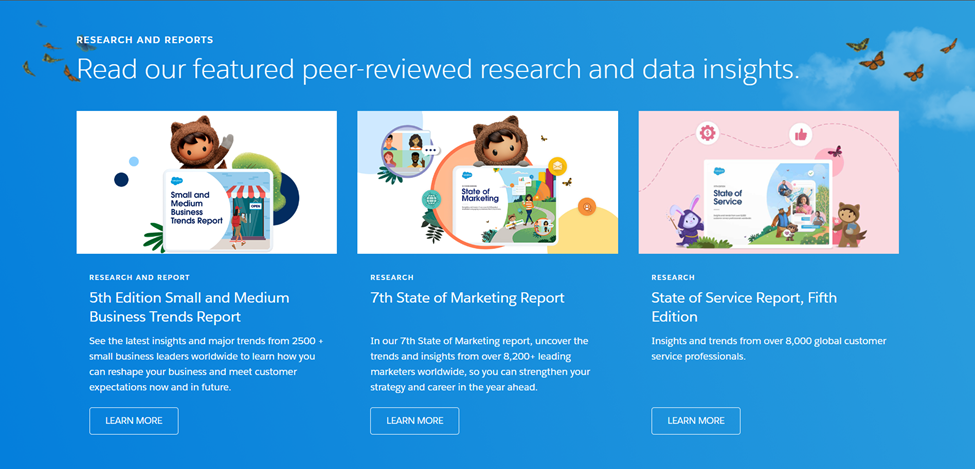 Trend #3: Link building Is Becoming More Challenging
Changes in the Google algorithm and the popularity of link building have made it more challenging to acquire high-quality backlinks.
In order to make the most out of their link building efforts today, businesses need to come up with unique strategies and content that sets them apart from others. And one of the best ways to set yourself apart is by putting in real work through relationship building and pure outreach.
Top SaaS Link Building Strategies that Work
From brand mentions to guest posting, SaaS companies use many strategies for effective link building.
While choosing the best strategy for your business, you need to remember that quality always trumps quantity.
Prioritize strategies that bring in long-term results through high-quality backlinks, even if they require more work.
Here are some of our tried and tested SaaS link building strategies to pump up your organic traffic, boost revenue and meet your business goals.
Linked and Unlinked Brand Mentions
Brand mentions are vital to the growth of your SaaS company. Not only do they boost visibility and awareness, but they can also bring back some great link juice if used right.
Here's how you can make the most out of brand mentions:
Set up Google News Alerts to find various instances of your brand being mentioned by a website without linking to it. Then you can simply reach out to the owners and request them to link back to your website.
If a website has already linked to you, make sure the link leads to the most relevant page on your site so you can capitalize on the referral traffic.
Industry Roundups
You may have seen articles such as "Top 10 Management Tools" or "The Best CRM Software in 2023" doing rounds on the internet. These are known as industry roundups and they're an great way to build high-quality backlinks for your SaaS business.
These curated lists can help you get some much-needed links and provide value to your audience at the same time. The businesses you include in your roundup might share your content on their socials, bringing in more leads to your website.
Apart from creating your own lists, you can also pitch your services for a feature in someone else's roundup. A simple Google search can help you find many opportunities to hop on existing round-up lists.
Widgets and Embedded Links
If you're a SaaS company, small widgets and embeds that are a part of your overall services can be an opportunity for link building. For this, you need a widget, often in the form of JavaScript code, which can easily be embedded on websites to provide value.
Some examples include Clutch and TrustPilot. Both of these companies provide widgets that allow businesses to show a preview of their customer reviews and testimonials.
Whenever a business or service embeds this on their profile, the widget links back to TrustPilot or Clutch, generating an insane number of links for them.
Think about extending the capabilities of your SaaS offerings to include widgets that are not only great for your backlink profile but also your conversion rates.
Guest Posting
Guest posting is a classic link building strategy that has been used and reused since the early days of the internet. While it may be one of the most common ways of building high-quality backlinks, its effectiveness is impossible to deny. That's only if you do it right of course.
We've mentioned before that relationship building and real outreach seem to be the secret sauce behind effective link building, especially since Google changed up its algorithm to weed out spammy links. Fortunately, building relationships and outreach are prerequisites for effective guest posting.
Here's how guest posting works:
The first step is to find high-authority websites that are relevant to your SaaS business.
Reach out to website owners and build a relationship before you pitch your content.
Write a killer pitch and include topic proposals.
Once they accept your proposal, you can start working on the content based on their requirements.
Add a link to bring referral traffic to your website.
Enjoy the increased domain authority, brand awareness, and credibility.
The two main caveats of guest posting are that it's notoriously time-consuming and will not bring you overnight success. Relationship building can take a lot of time and even then, you can only use guest posting sparingly at best.
You also need to create unique, valuable content considering someone else's audience and choose a high-authority site in your niche to reap some actual benefits.
That's why, in order to save time and effort, many SaaS businesses outsource their guest posting to link building services which already have a huge roster of established connections in the industry.
Valuable Content: Trend Reports, Infographics & More
Whether it's HubSpot, SalesForce, or Canva, some of the biggest SaaS brands in the world are attracting users through top-notch informative content that adds value. This includes educational articles, long-form trend reports, and useful linkable assets.
In this way, SaaS businesses can help their customers by targeting their pain points and addressing them in more ways than one.
Take a look at how Canva's informative article about graphic design trends of 2022 simultaneously informs users and redirects them to its services
Users who stumble upon this article are highly likely to check out Canva's offerings and convert into customers.
Helping Journalists and Media Requests
Another interesting way to find link building opportunities is through services such as Help A Reporter Out or HARO. These services connect reporters and journalists to credible sources.
All you need to do is sign up for HARO to receive journo requests right in your inbox. If you have expertise or information regarding any of the queries, you can respond to them directly and potentially get featured in a piece.
Apart from media request services, you can also join various groups on social media such as Facebook where owners of high-authority websites often put out collaboration requests.
Podcast Appearances
The popularity of podcasts has skyrocketed in recent years with many young people gravitating toward the entertainment medium. According to statistics, there will be more than 100 million podcast listeners in the US by 2024. No wonder everyone's jumping on the bandwagon! And here's why you should too:
Not only are podcasts an amazing opportunity to market your business, provide value and create awareness about your services, but they're also an opportunity for link building as well. When you appear on a podcast episode, they typically add your information including a link to your website on their podcast site.
Free Tools or Plugins
Who doesn't like a free offering? Just like content that provides value to potential customers, free tools and plugins are packed with incentives that attract people to your website and other services.
If your SaaS services are not free to use in general, a free offering can give a little sneak peek of what your tools are capable of. The key is to market and promote it well through multiple channels.
Common Mistakes with Link Building for SaaS
For those who are new to it, link building can be somewhat of a minefield.
Here are some of the most common mistakes link builders in the SaaS industry make and how you can avoid them:
Mistake #1: Stuffing your Homepage with Keywords
We know your app may have multiple features but you don't need a target keyword on your homepage for all of them. It's important to remember that Google probably won't rank your homepage for many different keywords, especially if they are individually competitive and different.
For example, Linkio.com has email outreach, rank tracking, and backlink monitoring features.
Our homepage wouldn't rank for all 3 of those terms because they are too dissimilar and the individual competition of each feature is too high.
To combat that, we will create a "features" page for each term. If we had only one feature or a well-known major all-encompassing keyword like "marketing automation software" to describe our tool, we would target the homepage with that keyword and then make feature pages to target popular sub-features.
Mistake #2: Not Building Links to your Homepage
Google prefers trusted brands to show up in the search results and most trusted brands make their homepage their most powerful asset. If you don't have lots of homepage links, Google might suspect you are not a trusted brand which will make it more difficult for you to rank.
By building homepage links on relevant sites through relevant articles, Google will assume you are an authority on the topic and industry, thus making your related internal pages rank much easier and with close to no backlinks.
SaaS is probably the easiest industry to build homepage links for as content like tools roundups and how-to guides are still in demand. Bloggers also want to keep their content fresh and up to date so all you need to do is reach out and make the most out of the opportunities.
Mistake #3: Investing too much effort in a Keyword
Link building is all about trial and error, you just have to know when to persevere and when to call it quits. One of the biggest mistakes you can make as a business owner is spending too much effort on ranking for a particular keyword.
Don't expect the best results from every keyword as some of them won't rank at all and others will get stuck on page 2 for years. No matter how much you strategize, there is always a certain percentage of luck associated with the rankings you achieve. If you're unlucky, and Google just doesn't like you for that keyword, is it worth spending years grinding your gears?
Instead of hyper-fixating on the disappointing keyword, get creative instead. If a long-form article full of links isn't working out, try creating subpages and monitor your progress. And if all else fails, you can always pick another SEO strategy from your bag of link building tricks!
Mistake #4: Not Creating Linkable Content
Underestimating the importance of high-quality content might be your downfall in the world of competitive SaaS link building.
To score big in the SaaS industry, you need to provide value to your customers through informative, educational, and valuable content that's easy to link and reference. Some of the best examples of such content are surveys, research, infographics, and interviews with famous industry experts.
In short, one of the biggest oversights SaaS brands can make while launching their link building campaign is overlooking quality content and link-worthy assets. Instead of relying heavily on brand mentions and acquiring links from shady websites, it's better to invest in providing value through world-class content.
Mistake #5: Not Networking or Building Relationships
Companies spend so much time building their SaaS products that they end up neglecting the public relations and media networking side of the business. Ultimately, this leads to unsuccessful outreach campaigns and a big waste of resources.
Just to reiterate our previous point, relationship building will be your secret weapon if you need to crush your competition while link building for SaaS. Networking with editors, journalists, bloggers, and content creators can help you get into the big leagues without much effort.
Of course, getting to know all these important people and building long-lasting relationships can be time-consuming. But the link building rewards are totally worth it.
Moving Forward: Saas Link Building
With so many SaaS companies opening up every day, new businesses have to wade through a ton of competition to reach the top. Fortunately, there's a lot of untapped potential in link building for SaaS brands.
It's important to remember that creating and executing a link building SEO strategy for SaaS is a long and laborious process that doesn't guarantee overnight results. That's why many SaaS businesses are outsourcing their link building operations to reliable link building agencies with the right kind of networks.
So, whether you're starting your link building journey from scratch or enlisting the help of a link building agency, remember that relationship building is the key to success and quality content always pays off!